On Friday 14th July, CSVPA's Graduation ceremony took place at the prestigious Cambridge University's Debating Chamber in the heart of Cambridge. Undergraduates and Masters graduates wore their elegant graduation robes and gathered with professors and staff to commemorate their hard-earned achievements.
The day began with excitement and anticipation as the students assembled for the procession through the historic streets of Cambridge. Friends, family, and well-wishers lined the pavements, eager to catch a glimpse of the procession. Despite the (very British!) heavy rain that persisted throughout the day, the spirits remained high.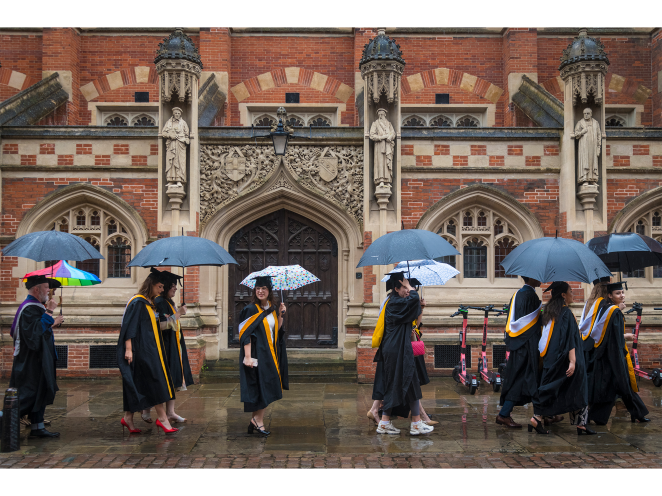 As the 'Mace Bearer' (Andrea Barnard, Senior Administrative Officer) lead the procession from the front, a talented band played uplifting songs to announce the fresh graduates to passers-by. Their music infused the procession with energy, making the march a memorable experience for all involved- with many tourists even stopping to take pictures!
The iconic venue of the Debating Chamber, with its rich history and tradition, provided a fitting backdrop for the graduation ceremony.
As the ceremony commenced, distinguished speakers took to the stage, including Rector Karin Askham and Chairman of the Court of Governors Christopher Stacey. Other significant CSVPA professors like Edward Dimsdale, Holly Fulton, Carolyn Timson and John Blackman also congratulated the graduates on their dedication, creativity, and passion that led them to this milestone. Proud parents and mentors watched on as each student shook Provost Kevin Hart´s hand and received their scroll.
As they become alumni, we are incredibly proud to present our (already award-winning!) class of 2023, ready to make their mark on the world of creative arts.