As we celebrate Black History Month, we are proud to share the important work of one of our Black British graduates. 
CSVPA alumna Taneshe Oliver-Lodge, who graduated from CSVPA in 2022 with a First Class Bachelor of Arts Degree in Fashion, was recently selected to display her final collection at the Victoria & Albert (V&A) Museum in London.
Founded in 1852, the V&A Museum in London is the world's largest museum of applied arts, decorative arts and design, housing a permanent collection of over 2.27 million objects. Last month, the V&A Museum held an interactive exhibition to celebrate 75 years since Windrush in collaboration with GUAP –  a youth-led media platform dedicated to discovering, showcasing and nurturing underrepresented creatives & communities.
The exhibition is entitled 'V&A x GUAP: London is the place for me?'. The themed celebrations welcomed creatives from around London to produce this immersive celebration of the Windrush generation. DJs, talks, performances, films and workshops all paid homage to the Windrush generation, their experiences, and their impact on Britain.  
GUAP wanted to collaborate specifically with emerging young designers who have focussed on Caribbean diaspora (a population that is scattered across regions which are separate from its geographic place of origin) in their work, to create a vibrant back drop for the evening. One of those designers was our own, Taneshe.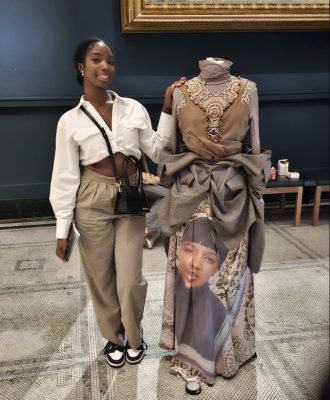 Alumni success stories such as these are a wonderful reminder of the transformative power of art and how art is catalyst for change. CSVPA students are expertly guided to develop all the technical, creative and networking skills needed to launch into a career in fashion, and become exposed to opportunities such as these.
Want to find out more about our Fashion BA course ? Click here!